Virtual Event
25 May 2023
Ambition for a better future:
Trends in Impact Assessment research and implications for planning practice
Environmental assessments operate in increasingly complex systems and, like our society, face major, multifaceted challenges that influence environmental assessment practice and research. With the research project "International Trends in EIA and SEA research and practice 2.0", we explore which topics and trends of impact assessment are currently being discussed and are relevant for practice today and in the future.
We cordially invite you to join us on May 25, 2023 to discuss future challenges, innovative approaches and important discourses in the field of environmental assessment.
Let's discuss the results of our project and implication for future IA research and practice together with German and international IA practitioners, legislators and academics at a virtual conference. Register here!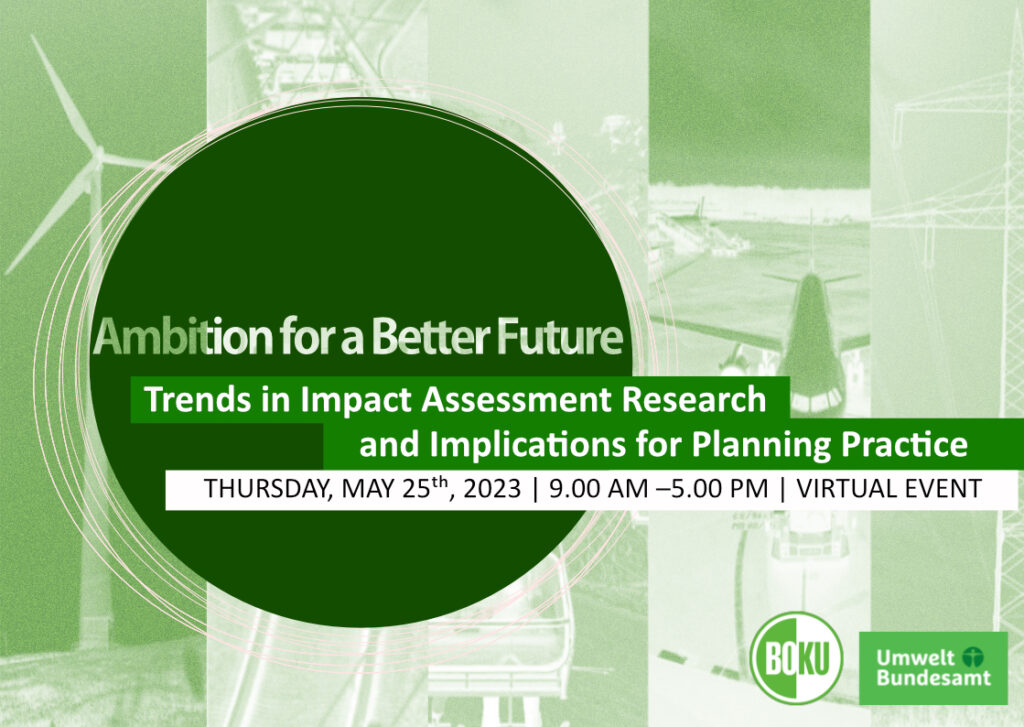 The research project is implemented by the Institute for Landscape Development, Recreation and Conservation Planning (ILEN) at the University of Natural Resources and Life Sciences, Vienna. The project was commissioned by the German Environment Agency and financed with federal funds as part of the departmental research plan. For more information on the research project, click here.
Contact for questions regarding the event:
DI Birthe Uhlhorn
E-mail:trends_conference@boku.ac.at
Institute of Landscape Development, Recreation and Conservation Planning
University of Natural Resources and Life Sciences, Vienna
Peter-Jordan-Str. 65, 1180 Vienna
Project management and responsible for the event:
PD Dr. Alexandra Jiricka-Pürrer & Dr. Gesa Geißler
Institute of Landscape Development, Recreation and Conservation Planning, University of Natural Resources and Life Sciences, Vienna

---
University of Natural Resources and
Life Sciences, Vienna
German Environment Agency (UBA)


Peter-Jordan-Straße 65,
1180 Wien, Austria

www.boku.ac.at
Wörlitzer Platz 1,
06844 Dessau-Roßlau, Germany

www.umweltbundesamt.de